LOAD-OUT AND FLOAT- OFF OF SUPER-YACHT "YAS"
Dubai, December 2011
Superyacht Swift141, christened "Yas" was originally a Royal Dutch Navy Frigate, designed by naval architect Koninklijke Schelde Groep B.V., built by ADMS Shipyards, with the exterior and interior design carried out by Pierrejean Design Studio, Paris.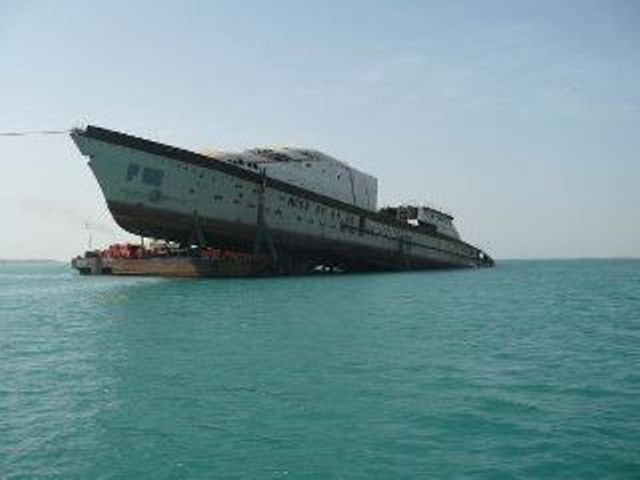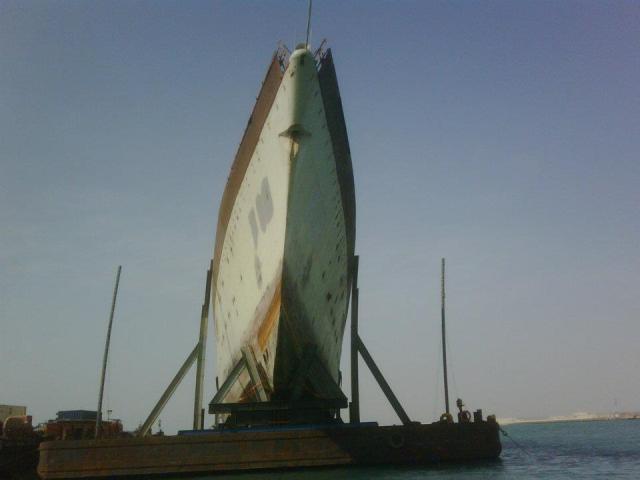 Two-and-a-half years ago, TTS International lifted her hull with her partially completed superstructure out of the water and skidded her into the fabrication yard of ADMS yard, where her build was completed. She is now a striking, graceful, 141m long vessel with spectacular external and internal features, and outstanding performance with a capacity of reaching speeds up to 26 knots, driven by green-fuel engines.
She was launched by TTS International, Dubai in an operation that is classed as both the largest launch of 2011 and the launch of the most significant superyacht in recent history.
During fabrication, T.T.S. International levelled and weighed the yacht several times to ensure that there was a concise knowledge of her structure to enable a custom-made lifting and skidding design onto Dockwise's semi-submergible vessel "Mighty Servant 3", based on the already existing TTS-designed skidding system.
The yacht was placed onto 20 carefully positioned trestles, all supported by a total of 40 jacks of 300T capacity each. Utilising two carefully positioned 200T strandjacks, "Yas" was pulled on no less than 18 points to ensure an evenly distributed pulling force along the width of the hull.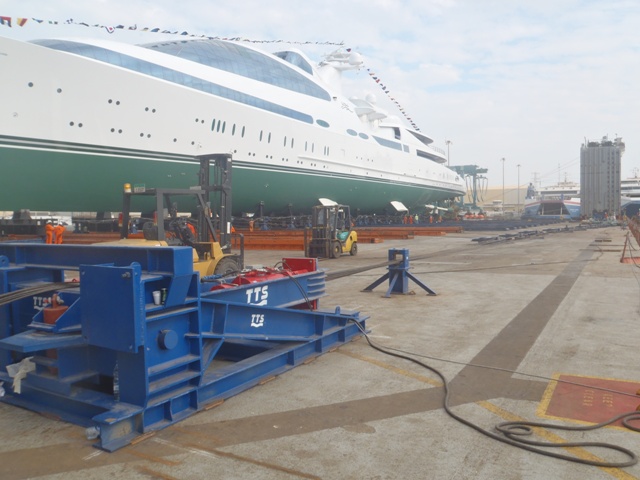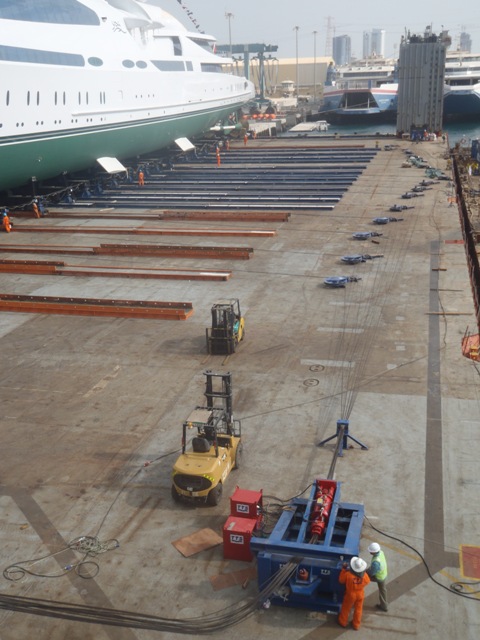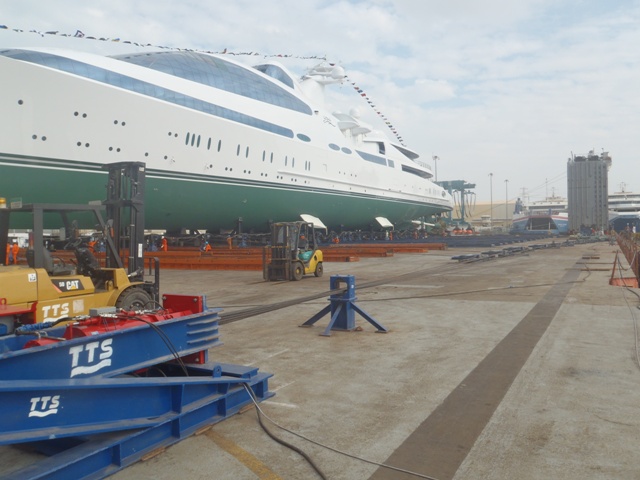 On the first day of operations, "Yas" was pulled from her construction position to the edge of the jetty, which comprised of a pulling distance of 25 metres.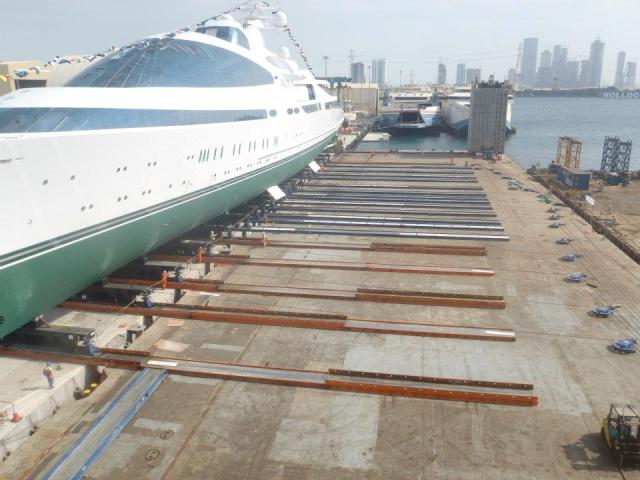 The skidtracks were then repositioned onto the Mighty Servant 3. Using careful ballasting of the Mighty Servant, "Yas" was carefully loaded out over the side and positioned onto the deck, a pulling distance of another 30m.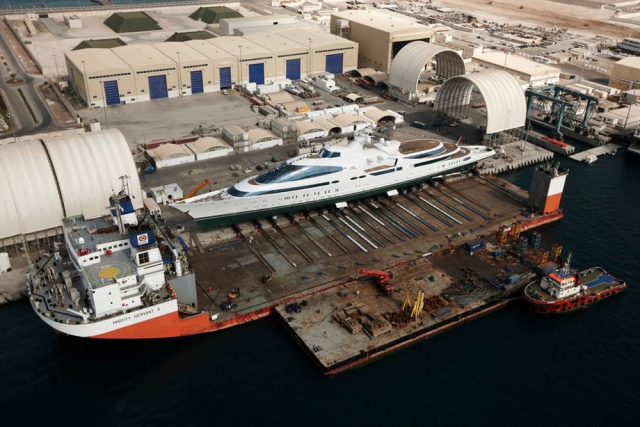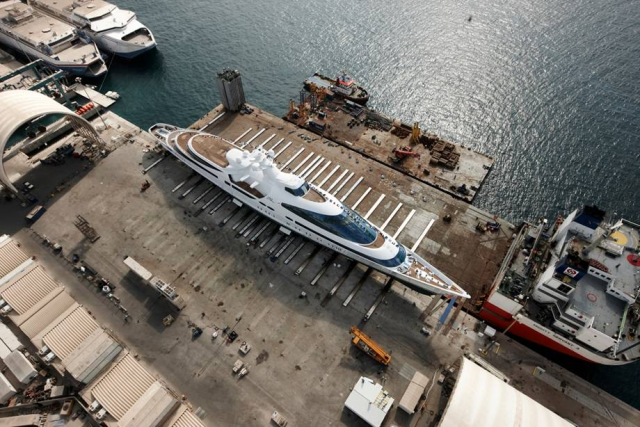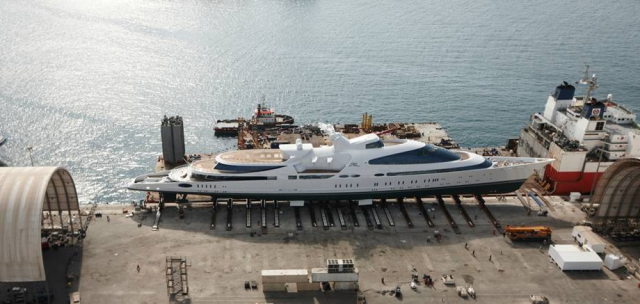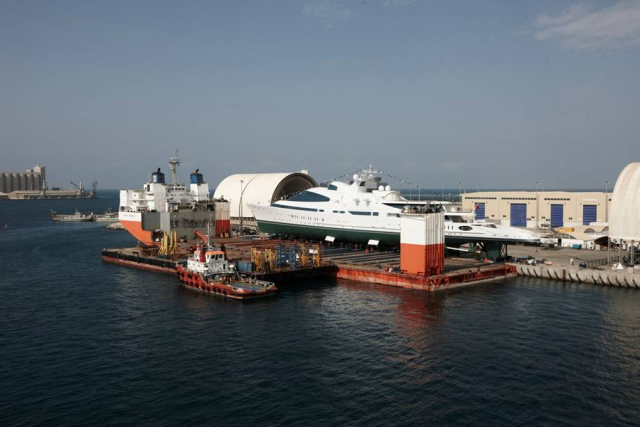 All pulling equipment was removed from the Mighty Servant 3, but "Yas" remained solidly supported on the 40 300T jacks, until such a time where she would float off of her own accord.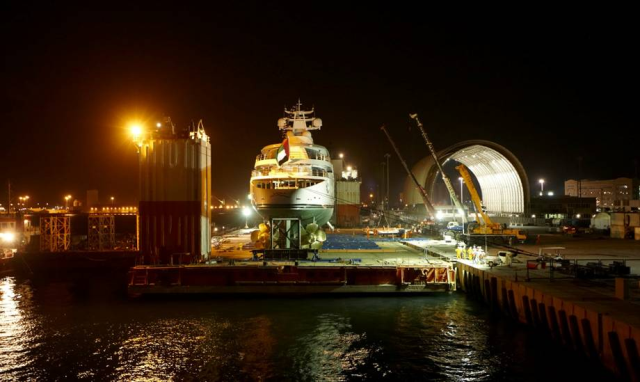 Due to hazardous weather conditions, "Yas" remained on board the Mighty Servant 3 for three full days, until such a time where the winds died down. Finally, Mighty Servant 3 sailed out into the submerging location, which was at a distance of 60m. from the jetty. Once in place, the submerging operations could finally start.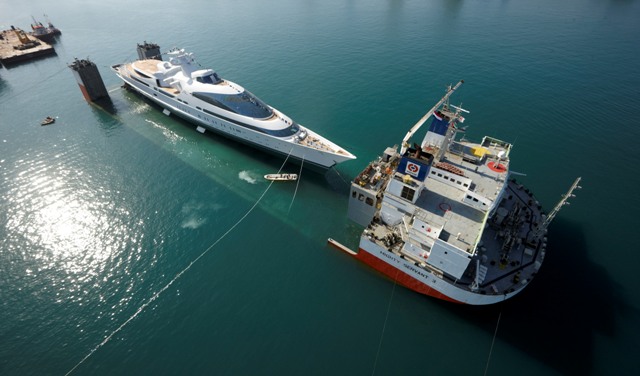 "Yas" remained attached to TTS's pulling equipment and once float-off had been successfully carried out, she was pulled back to shore by means of the shore-based winches aided by the winches aboard the Mighty Servant 3.
TTS International together with Dockwise's Mighty Servant 3 have completed a spectacular, successful float-off of one of the most impressive, fast, modern yachts the world has seen in a long time. A feather in the cap of her designers and builders.