Welcome to TTS International
YOUR TRANSPORT AND HEAVY LIFT SPECIALIST

Who are we?
Transport Technics and Services International is a Heavy Lift company which specialises in handling, transporting and installing heavy and oversized cargo by land and sea. The company was established in 1984, when it took over the heavy lift activities and a part of the staff of I.T.M. Overseas. Since then TTS International has expanded to an U.A.E.-based organisation with offices in Abu Dhabi and Dubai with a staff of 130 personnel. TTS International operates not only in the United Arab Emirates and the Middle Eastern region, but also in the Far East and Africa, with strong business connections in Europe



What do we do?
TTS International is active in many sectors, including the oil & gas industry, the power industry, manufacturing plants, civil works and offshore and marine projects.
We pride ourselves in offering a complete service to our customers, commencing with engineering and performing the required calculations and finishing with a satisfied client.
Among complete services offered by TTS International are project logistics, project handling and project contracting. In addition, TTS International's engineers design and innovate tailor-made solutions for complicated operations.
Some examples of TTS International's more interesting or challenging projects are:

• The heaviest cargo handled so far was weighed by TTS at 13,000T, which was lifted, weighed and shifted a distance of 100m on an especially designed skid system.
• The highest cargo TTS transported was a number of fully erected container cranes with heights of up to 135m. These cranes were transported between Jebel Ali Port and various locations throughout the Middle Eastern region.
• A prestigious job was the installation of the mezzanine floors of the rooms of the Burj Al Arab. The job was made interesting by the need to design and construct various tailor-made lifting solutions, which needed constant adaptation throughout the project, as conventional methods were made impossible by the design and method of construction of the main build.
• A particularly challenging project was the transportation and installation of acrylic panels into the salt-water aquarium at the Burj Mall. The largest of these panels was and still is the largest in the world weighing 240 T and measuring 32 m in length, 8.3 m in height with a thickness of 75 cm.
• Another exciting project was the picking up onto pontoons of process barges weighing in at 3,200T, which were then transported and floated off at the destination point.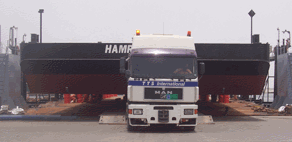 How do we do it?
TTS International owns and operates a fleet of specialised equipment, which is constantly being updated and innovated upon according to the demands of the projects TTS International carries out. All equipment is operated by a team of highly skilled experts, who are supported by our excellent team of engineers.
TTS International takes pride in her work and aims to never say "It can't be done". We start with "How do we go about doing the impossible".