INSTALLATION
No transportation service of any form is complete without suitable installation to round-off a project. TTS International prides herself in finding innovative solutions to the most awkward situations that may occur. These solutions always require imagination and precision engineering, and often include innovative design and manufacturing of tailor-made lifting, jacking, skidding or other auxilliary equipment.
Jacking, skidding and rigging

For installation and/or removal of machinery and equipment where the use of a crane or trailer is not feasible, TTS International often introduces the method of jacking and skidding.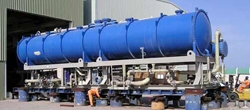 In preparation of such operations, TTS carries out a site survey to ascertain which obstacles may be encountered, then offers the engineering solutions to solve them. The client will be presented with a method statement, including a specification of the equipment to be used and the solutions that are suggested.
Once all eventualities have been taken into account, TTS will mobilise and carry out the jacking and skidding operations safely and securely. More often than not, special adaptations to existing equipment, or new items need to be fabricated to ensure successful completion, which can be carried out by our own people.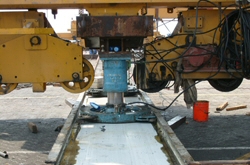 TTS owns a wide range of jacking and skidding equipment, including a full range of jacks, a specialised rolling system, push-pull systems, Teflon skidding equipment and an innovative fluid system.

Naturally, TTS International will protect the site where the operations are carried out, taking special care to avoid overloading foundations by using load spreading equipment to safeguard both the site and the equipment and materials.




Cranage
TTS Internationalís engineers have designed, engineered and manufactured a number of specialised, tailor-made hydraulic gantry systems to enable installation works in confined spaces where the use of classic cranage has proven impossible. These gantry systems have shown themselves to be particularly useful in the installation of factories and handling equipment within large fabrication halls, particularly when there is limited room to manoeuvre.