MARINE OPERATIONS
Load-out Float-off Barge transportation Installation Marine equipment
One of TTS' specialties is the undertaking of marine operations. These vary from the load-out of all manner of cargo and the floating off of entire vessels to barge transportation of completely built-up container cranes and the leasing of specialised marine equipment.
Marine load-outs and barge ballasting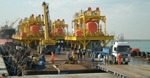 Most oversized marine transportations are either preceded or followed by a load-out onto a barge. TTS offers a full service to carry out such specialised operations. We provide the engineering studies of the load-out, carry out ballast calculations, supply all the necessary equipment and perform the actual load-out.

For the actual shifting of the load, we use either trailers, Teflon-mounted skids or install an ATS (Air Transport System).
Our team has been known to successfully and safely load-out items of up to 1,000 MT on several occasions.
Float-off of vessels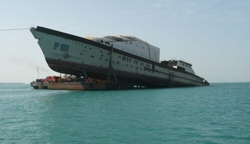 Amongst TTS' recent projects is the float-off of a number of large vessels. These operations are extensive and exciting, starting with the engineering studies and ballast calculations required for the load-out of the large vessels onto specially prepared barges. Once the vessels were safely settled onto the barges, they were towed to the float-off site, where the barges were fully submerged until the vessels were afloat.
Barge transportation and installation
TTS International is well versed in the barge transportation of large items.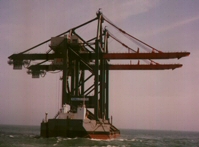 Among our projects are the load-out, transportation and installation of complete container cranes and RTG's (Rubber Tyred Gantries) within the UAE and also from Abu Dhabi to India, Pakistan, Yemen and the USA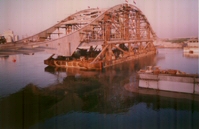 Another most interesting project was the transportation in inland waters, thereby necessitating precise manoeuvring under bridges, of entire bridge sections of 150m in length with a width of 25m and a weight of 1,600 MT. These sections were then moved into position on a ten-point mooring system and placed onto bridge supports using a combination of ballasting, jacking, a large variety of specialised marine and lifting equipment, dual barge mounted cranes and precision engineering.
Marine Equipment Hire
TTS International can supply a full range of marine equipment with or without operators.
This equipment includes pulling and/or mooring winches including accessories (powerpacks, generators, aircompressors, sheave/snatch blocks), ballast pumps (diesel as well as submersible), and any other equipment required to carry out a large range of marine operations.